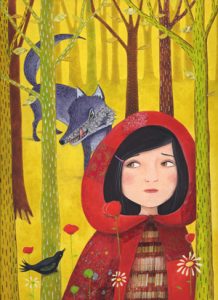 How would you describe your work to someone who has never seen it?
I like to think my work has an immediate colourful impact, but with an underlying pattern and texture of ideas.
How did you start off in the arts? How/when did you realise that you were an artist?
I remember winning a colouring competition on holiday when I was five, which led, thereafter, to much competitive drawing and making stuff with my friends at home. My poor Dad had to mark and choose a 'winner'!
I realised at school that as well as loving art and design classes, I was actually quite good at making pictures. So I made the easy decision to continue my love of all things 'art' and do a foundation course, followed by a BA in Graphics and Illustration at Kingston University.
I consider myself one of the lucky ones in finding the right course for me, and being 'ready' with an illustration portfolio just as I was let out into the big wide world. And I've been working as an illustrator ever since.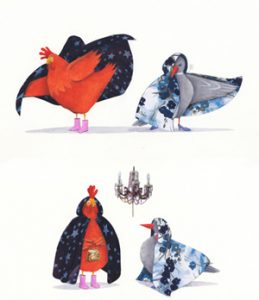 Please describe a typical day of art making for you.
On an ideal day, I'll go for a swim first thing to wake myself up and to sort out all the visual problems in my head.
Sometimes this works, and I'll be ready to draw/paint having worked it all out beforehand. Though sometimes this doesn't help, and it just feels like tiring procrastination!
I have to set myself mini deadlines everyday, and I'm quite strict at keeping to them. If I didn't, I'd just be wondering off doing another load of washing or pottering in the garden.
I love the initial ideas stage of a new piece, and I can be quite quick at coming to a rough visual. Refining a rough takes longer, ironing out all the finer details.
Then the fun part of painting and collaging really begins, and I finish off by scanning my artwork and refining further digitally. I still get that buzz when I know a piece is complete.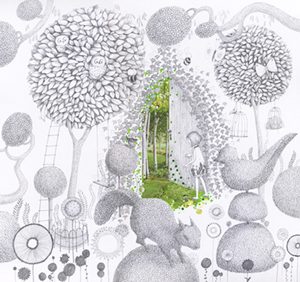 What contemporary artists or developments in illustration do you find interesting right now?
Although I love the cleverness and neatness that using photoshop and other computer programs can bring to illustration, I still love a good old bit of texture, paint and mess in creating as well in viewing new illustration.
There's a certain richness, especially in some children's books I see, that excites me about hands on work.
I'm continually impressed by the work of Oliver Jeffers, Anne Wilson, David Roberts, Jon Klassen and Neil Layton, for example.
How long does it typically take you to finish a piece?
There's often a bit of backwards and forwarding between the initial idea and completing a piece of artwork, but if I added all the bits of time up, it would probably take up to three days to complete a typical picture book spread sized illustration.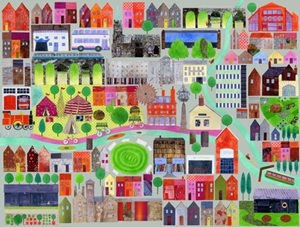 What do you do (or what do you enjoy doing) when you're not creating?
Apart from 'Mumming' my two children, working part-time at a school, running children's workshops and swimming, I quite like a spot of gardening. I love going to galleries both to see and chat about new work, and I really enjoy a weekend walk with my family.
The book group I belong to makes me read lots, and I love meeting up with my local illustrators group every month to thrash out ideas. I would happily travel more given the time and funds, too!
Any advice for aspiring illustrators?
As long as you have the raw talent, keep going, keep making, keep contacting people and keep being easy to work with. The high you get from some great work to do is worth it!