How would you describe your work to someone who has never seen it before?
I think I'd describe it as the Invisible Art, as you're unlikely to see much of what I do directly on screen, or in print. Doing concept & design drawings, 3D, and matte paintings usually means you're working as part of a team, so the end result on screen is a group effort. It makes for a varied day with many challenges.
How did you start off in the arts? How/when did you realise that you were an artist?
I was on holiday with my family at the age of about seven or eight. We were in a small Newsagents, and I noticed a paperback with a cover illustration by Frank Frazetta. It seemed to leap off the shelves at me, so visceral was my reaction to it. I couldn't stop staring at it. For the rest of the week I made up as many excuses as I could to go back in to the shop and just look at this amazing painting again and again. I think my folks thought I just had a craving for sweet things, but that was the time when I decided that I really, really wanted to be able to paint like that. I never have been able to, but then nobody else can either, so I don't feel too bad.
Please describe a typical day of art making for you.
Usually I'll be working in-house in an animation production company, so after the obligatory strong cup of coffee I'll be doing one of the following things: Sketching or visualising on paper or computer, taking a brief for a design then doing some drawings, building 3d models either for use in matte paintings or to be used as assets in the current production I'm working on, and doing some drawings. I might be working on a matte painting, in which case I'll be spending the day in Photoshop and Painter, talking to the compositors and 3d guys if we are still at the pre-vis stage of the project because a lot of the look development goes back and forth between us all.
When I get back home, after family time, if I've got the beans I'll look at tutorials online, do work for Artist Partners, if I have a commission to do, or do personal projects – try to learn something new, anyway.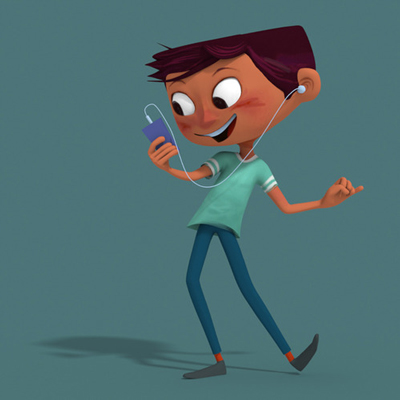 What contemporary artists or developments in illustration do you find interesting right now?
When I started it was all Rotring pens, watercolour and airbrushes. Now it's Photoshop, Modo and Nuke. The pace of change is speeding up and Illustrators need to be multi-skilled and adaptable to cope with this change.
How long does it typically take you to finish a piece?
Anything from half an hour to 3 months, depending on what it is.

What do you do (or what do you enjoy doing) when you're not creating?
I don't have much free time, but I love to read, I like woodwork and making things, pottering about. I don't watch television, which helps.
Any advice for aspiring young illustrators?
You have to love what you do. The life is too hard otherwise! You'll know if it's the right thing for you – it sort of picks you, not the other way round. And draw, draw, draw! Be adaptable. Oh, and never try to eat anything bigger than your own head.
Thanks Adam. What a great insight into your busy life as a creative!