How would you describe your work to someone who has never seen it before?
Dreamscapes between the future and the past.
How did you start off in the arts? How/when did you realise that you were an artist?
As many artists will tell you, it's not that I started off, but that I never stopped making things.
Please describe a typical day of art making for you.
I don't have a typical day. Today I'm making a flamenco poster and rendering sketches for a show in St. Petersburg. Tomorrow, I'll be screen printing, and at the end of this week I'm off to Valencia to do a photo project.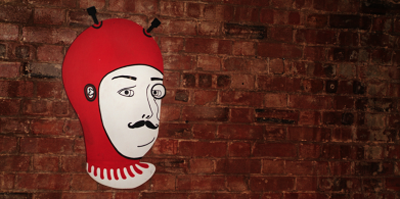 What contemporary artists or developments in illustration do you find interesting right now?
I don't really know. I like going to flea markets and cobweb filed museums.
How long does it typically take you to finish a piece?
Anywhere between a week and a month, depending on the complexity.
What do you do (or what do you enjoy doing) when you're not creating?
I was playing croquet yesterday. I brought in the harvest on a tractor last autumn, that was quite fun.
Any advice for aspiring young illustrators?
Don't stop.