How would you describe your work to someone who has never seen it before?
It's difficult to give it a definition as it keeps changing.
How did you start off in the arts? How/when did you realise that you were an artist?
When I was at school I wasn't very good at anything so the teacher would give me projects to produce big pictures for the school hall. I remember doing one of Death rowing in a boat on the river Thames with a dead dog floating past!
I've always been drawing ever since I was a very small child and then I left school at 16 and went to Art College where I did a foundation course trying out all different types of art practice. The thing I thought I wanted to do the most was costume and fashion design so I did a degree in fashion design.
I've ended up being a children's book illustrator and it was always my dream to do this although I tried to pursue a career as a fashion illustrator first. When I met Christine of Artist Partners she pointed out to me that I was drawing characters and perhaps I should focus more on publishing and in particular children's books.
Please describe a typical day of art making for you.
I'm not a morning person but ironically I find that I'm most productive if I get up early and start working by 8.30 -9am. I work from home so the day could be spent planning for a future book, researching or reading a text.
Every day will involve drawing of some form whether it be rough sketches or finished artwork. I listen to the radio (6 Music) and I always stop to watch the 1 o'clock news. The work will carry on until it's done so I finish whenever I finish!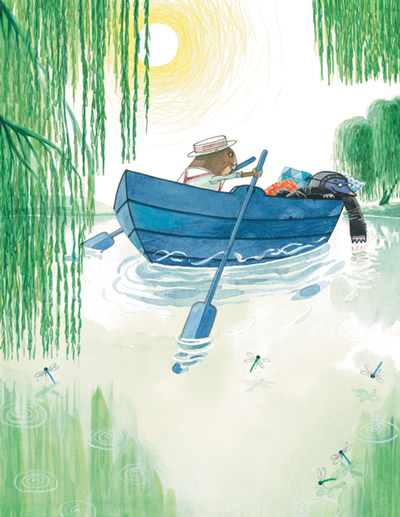 What contemporary artists or developments in illustration do you find interesting right now?
David Hockney is one of my favourite artists. Although I don't work digitally I really enjoyed his recent work using the iPad and using digital photography.
With regards to contemporary children's book illustrators my favourites include Sarah McIntyre, Anthony Browne, John Burningham, Marc Boutavant and Satoshi Kitamura.
How long does it typically take you to finish a piece?
A black and white piece can be anything from a few hours to a day or two. A full page for a colour picture book could be a day to three days. The most time is spent in planning the rough sketches and working out the composition, the detail and the content.
What do you do (or what do you enjoy doing) when you're not creating?
Whenever possible I like to be eating cake or shopping. I hate the gym but it's a necessary evil and the silver lining to that cloud is that I can indulge myself in a good 20 minutes on the hula hoop! I don't have hobbies.
Don't be afraid to experiment.