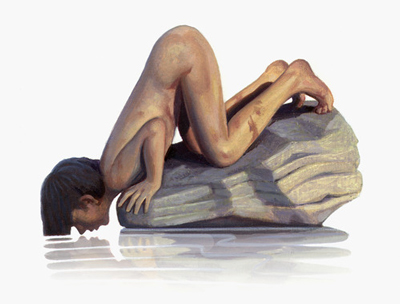 We asked Mark Edwards to give us an insight into life as an artist up in the Scottish Highlands.
How would you describe your work to someone who has never seen it before?
Well I'm rather fortunate in that I've always divided my time between painting my personal work and Illustrating. Also i come from a Fine Art background and was never trained as an illustrator, so if I'm working on a book cover, I try and keep an open mind and let the book determine the style. This probably explains why my illustration work over the last 30yrs, is a complete mish mash.
How did you start off in the arts? How/when did you realise that you were an artist?
Again like a lot of artists, I can't remember a time when i wasn't completely absorbed by drawing or painting. Certainly at school from a very early age I was known as being arty. Though going off to Medway College of Art in the 60's and later Walthamstow, certainly introduced a working class lad like myself to realising that just being good at art wasn't enough. You had to be committed and focused.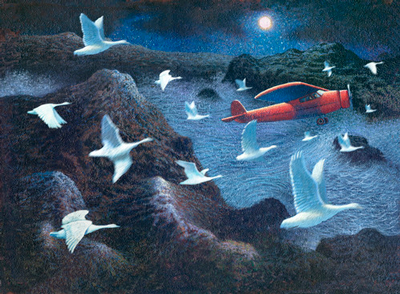 Please describe a typical day of art making for you.
I love routine…. So at 9am I'm usually walking down the path to my studio. If I'm illustrating a book then i have already read it and highlighted passages that interest me. I start doing a number of rough sketches on paper including any photos I may have taken for reference.
When I have two or three ideas, I scan them into the computer and start to work on tightening them up and trying various colour combinations. If I have a layout of the typography from the designer then I can drop it onto the rough and make sure those areas of type are not too busy. Of course what I'm submitting is ostensibly a digital rough, so the client will be aware that the final artwork will be painted (usually in Acrylic).
However I spend as much time on my own work (markedwardsart.co.uk) and that is a far more organic approach. Also as a painter i tend to work over a period of years on a particular series, as shown at the Catto Gallery exhibition last October.
What contemporary artists or developments in illustration do you find interesting right now?
Although we have enjoyed living in the remote Highlands of Scotland for nearly 40yrs, the internet has certainly enabled me as an artist to see the global diversity of all forms of creative expression. Which even on a subliminal level must drip down to ones own work.
Though as an avid reader growing up, I loved Thomas Henry's line drawings for the 'Just William' books and of course Dickens illustrator Hablot Knight Brown's (phiz) engravings were beautiful. But illustrators like Brad Holland, Marshall Arisman, Paola Piglia, who have been around for years, I still find incredibly impressive.
As for Painters….. Too many to mention.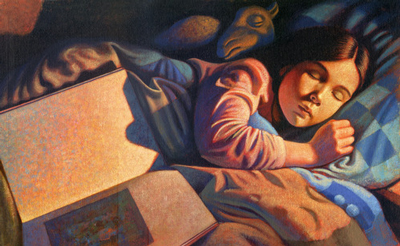 How long does it typically take you to finish a piece?
It depends. With book cover illustration you're often already being asked when you think you may have something to show, before you have even received the M/S or more often synopsis……. Once the rough is accepted, 2-3days?
What do you do (or what do you enjoy doing) when you're not creating?
Music is a passion and playing in a jazz band with good friends for the last 20yrs is great fun. Also being surrounded by mountains and within walking distance of the North Sea, I try and get out with the camera as much as i can.
But most evenings especially in the winter, feet up next to the fire watching the TV as my wife Sally nudges me to keep awake. Aaah! The glamour of being an Artist!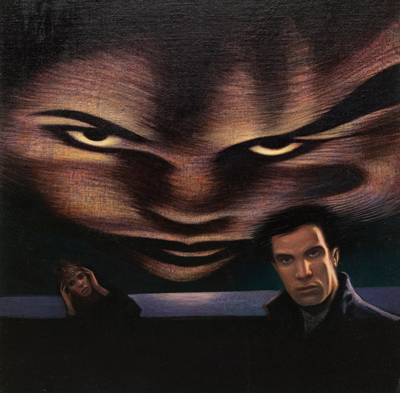 Any advice for aspiring young illustrators?
Well probably the same as to an aspiring actor, dancer, musician, infact anything to do with the Arts. Don't unless you have too. But if you do, like my son Ben who is a graphic designer, always be professional, do as much varied work as you can to keep your folio fresh. The time an effort you take on a job should not be dictated by the amount of fee you get. Every job needs your complete attention.
And lastly you can't talk a finished job into being accepted, so if the rough has been agreed and you have completed the commission, don't get precious if for some reason you have to make some changes. Remember illustration goes in and out of fashion even quicker than Fine Art. If your friendly and easy to work with, the graphic designers will use you again.
Finally don't move to the Highlands of Scotland!……… Unless Chris takes you on.