How would you describe your work to someone who has never seen it before?
Widescreen epic cinema meets expressionistic painting! I am a film director from a fine art animation background, which is quite an unusual mix as shown in this montage. My still art for illustration, concept art or for its own sake is the purest expression of this style.
How did you start off in the arts? How/when did you realise that you were an artist?
I was always into drawing. At school I painted and drew surreal images influenced by Heironymous Bosch, Luis Bunuel and Jack Kirby. I went to art college (St.Martins) on the back of this, and on my foundation got into a more classic expressive use of charcoal drawing for landscape and life drawing. On a hunch I felt that there might be room to grow in animation, because there seemed to be infinite possibilities but it was only imagined in a very safe cartoon style. This way I could carry on drawing and bring them to life in an endless flow! So I studied film and began work in that medium once I graduated. Here is an example of my style once it started to be commissioned.
But I would always be doing still art as concept art, storyboards and illustration. And often I could go a lot further in getting my exact vision with the still art because you did not have to work within the technical challenges of making it move.
My medium has widened from charcoal, rembrandt and oil pastel into a very involved use of painting with the light pen. To put this still artwork out on its own terms I made my own graphic novel "Siege" (2007) which led to my first feature film directing commission: "Ultramarines: A Warhammer 40,000 Movie" And this year I have had an exhibition of my digital paintings and still artwork.
Please describe a typical day of art making for you.
A still image will start as either a drawing or a digital collage. That could be a morning or days work. Once the composition and broad strokes of colour and tone are settled on, I take a break from it. When I return to it, I work into it with a different approach, working heavily into the texture.
What contemporary artists or developments in illustration do you find interesting right now?
Though he has been around for a while, I love the dynamic graphic quality of Frank Miller's illustration. Artists I really like for their textural painterly manipulations of photoreal subjects are Gerhard Richter and Adrian Gehnie.
How long does it typically take you to finish a piece?
2 to 4 days.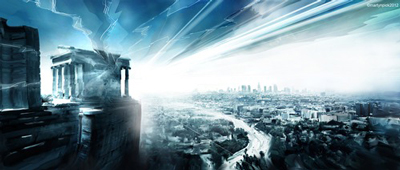 What do you do (or what do you enjoy doing) when you're not creating?
I think most of all I really enjoy the send of freedom and space you get from travelling.
As with any creative medium, you need to find your own voice. But at the same time remain open. Working to different briefs will stretch you and keep you fresh by widening and deepening your approach. Also work with what's on your plate. Whatever job or project you have at the moment is the most important! Put everything into that rather than holding back for some idealised future project.