How did you start off in the arts? How/when did you realise that you were an artist?
My family have always been a big influence. My grandfather is a great painter and my mother, Carmen Queralt, is one of the best Spanish illustrators for children. I have always drawn a lot as a way of expressing myself, but it was in the strange moment when you have to decide a way of living that I decided to become a graphic artist.
Please describe a typical day of art making for you.
Being freelance allows you to avoid tight routines and I like that! However, let's say this: I take my 2 year old daughter to kindergarden at 9am, have a little walk around where I live, in the old part of the centre of Madrid, and have a 'café con churros' before going to work in my studio. I don't always manage to get it but I like what Saul Steinberg says about working no more than 3 hours a day! The day usually ends tidying up the house after the earthquake that my daughter causes everyday!
What contemporary artists or developments in illustration do you find interesting right now?
To see the work of other graphic artists is like food for me; I need it to refresh my ideas and to give me energy to work. Fortunately there are a lot of people doing amazing things all around the world and I try to spend some time every day having a look. I will say Isidro Ferrer in Spain, internationally Serge Bloch, Marion Dechaurs, Frederic Benaglia, Joanna Nebrosky, André da loba, Aleksandre Niepsuj.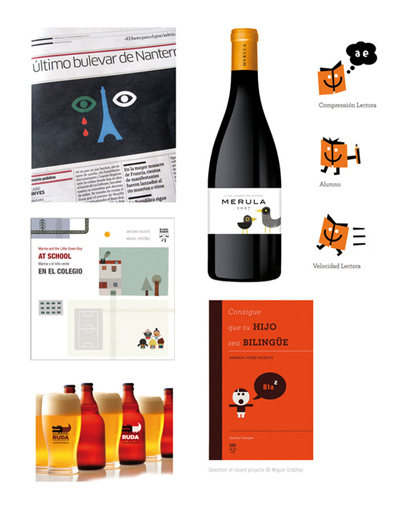 How long does it typically take you to finish a piece?
It depends a lot, I work fast but I usually try different alternatives if I have time.
What do you do (or what do you enjoy doing) when you're not creating?
I try not to forget that living is a wonderful thing, the only thing we have at least and it allows you to do interesting things every day. I like to listen to a great song, like this morning Franceso di Greagori's 'Buonna Notte', watch good movies, like The Godfather trilogy last weekend, read a good book, like Houellebecq's 'The Map and the Territory', walk around the city, play with my daughter, travel, etc etc.
Any advice for aspiring young illustrators?
For young people in general, try and find something you like and then try to turn that into a career.