How would you describe your work to someone who has never seen it before?
I would describe my recent work as a lively and painterly representation of the natural world that surrounds me! I try to portray the animals and people of Rutland with a quirky eye for detail using contemporary colour and composition.
This is true of the Coastal paintings I create, in which I am conveying mood through movement and impressionist brush work.
How did you start off in the arts? How/when did you realise that you were an artist?
I studied Graphic Design at Loughborough College of Art in the late 1970's and went on to be an in-house Illustrator for a Design company in Nottingham before setting up my own Illustration company working for Designers and Publishers and later developing my relationship  with Artist Partners.
In the last ten years I have been more involved in practising purely as a painter and now am represented by several galleries around the country.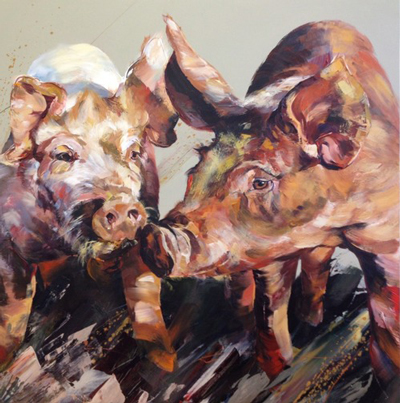 Please describe a typical day of art making for you.
A typical day is spent in my Studio,which is part of my home, an old out building that has been converted into a work space/gallery if needed for 'Open Studios' etc…
I am quite strict in that a working week will be a working week, I tend to start around 9.00, lots of coffee, paint on and off all day, (pulling in any emailing etc… when I want to sit down!)
Finishing around 5.00ish. If things haven't gone well in the day I may carry on painting into the evening .
I spend some days doing some lecturing at a local college and I am involved with several schools who use me as their 'Artist in Residence'.
What contemporary artists or developments in illustration do you find interesting right now?
I have always loved children's book illustration and still can't go into a book shop without a quick browse through the children's department, I spent an hour in the Tate Modern book store last year and came out with several 'Picture' books and all my kids are grown up!!!
With painting being such a passion I am hugely inspired by contemporary Artist 'Jenny Saville' and her bold, larger than life studies, also Lucien Freud's use of colour and his laying down of impasto paints.
I am always interested in what is new in the Illustration field as my oldest son has followed in my footsteps and studied at Norwich, who knows one day we may work together on a collaboration. (although I am a bit of a dinosaur when it comes to creating anything digitally!).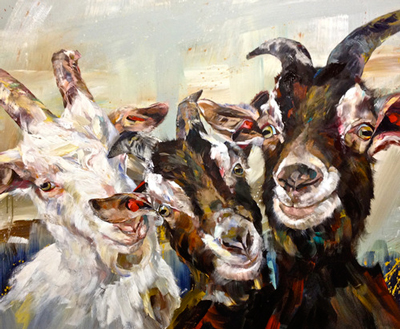 How long does it typically take you to finish a piece?
Most of my work is on a fairly large scale and can take anything from a few days to a week to produce, all the paintings are in Acrylics which does means I don't have a problem with waiting for things to dry. This has the added benefit of keeping the work fresh and lively as working with Acrylics has to be quite spontaneous.
What do you do (or what do you enjoy doing) when you're not creating?
When I'm not 'creating' I am a keen foody and love cooking (and Eating!). I love walking in sun and rain with my other half, strolling along the North Norfolk coast, reading, getting together with very large extended family and friends. Curling up by the fire and doing nothing!  🙂
Any advice for aspiring young illustrators?
My advice for any young aspiring Illustrator/Artist is going to sound really corny! ………but follow that dream! LOL.
On a less cheesy note, just be inspiredly by stuff around you, look, enquire, collect and enjoy!
See more of Debbie's work on her portfolio page.