How would you describe your work to someone who has never seen it before?
I like to think that my work is varied, I produce photographic illustrations and digital paintings that can vary from the painterly to the photorealistic.
How did you start off in the arts? How/when did you realise that you were an artist?
I've always loved to draw and paint. My brothers and cousin loved art too, and we were always competing with each other. I never had any firm ideas about being an illustrator, I wanted to be a fine art painter. However, after I didn't get on the degree course I wanted I decided to try graphic design. There was an illustration module on the course which I really enjoyed, and so it all began.
Please describe a typical day of art making for you.
I do all my work at home. When I used traditional media I needed plenty of light, but now that I work digitally I tend to work in a fairly dark room. On a typical day I start work after my children have gone to school. I work at my computer, with my graphic tablet on my lap and work fairly solidly until the afternoon. I may have a photo shoot or go reference hunting with my camera during the rest of the day, and then I'll go back to work in the evening. I'm a bit of night owl.
What contemporary artists or developments in illustration do you find interesting right now?
I love Michael Komarck's work and I also look at film/video game posters all the time. There's so much talent out there.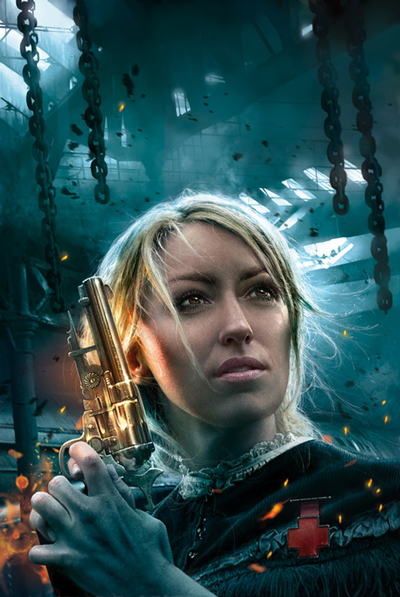 How long does it typically take you to finish a piece?
Anything from three days to a week depending on the amount of content in the work.
What do you do (or what do you enjoy doing) when you're not creating?
Well I love to do stuff with my kids when I'm not working. I also like cooking, movies and a bit of DIY and gardening. I also play a bit of badminton when I get a chance.

Any advice for aspiring young illustrators?
Be ambitious and always compare your work with those in the industry. If you aren't hitting their standard, keep trying and make it work.