How would you describe your work to someone who has never seen it before?
Folk inspired rustic narratives – made by hand.
How did you start off in the arts? How/when did you realise that you were an artist?
At school, art was always the subject which always came easily. Whereas the sciences and stuff I had to think and take time to figure stuff out – art just flowed. I still don't really view myself as artist as such as I still have to get up every morning to get work. Though, if an artist can be viewed as someone who has a kind of wonky almost song-like view of the world and then attempts to recreate this view into an image then I've always been like it since I was a nipper.
Please describe a typical day of art making for you.
Having a whole day would be a luxury! I've recently moved house so my drawing/making space is currently a cushion on the floor in front of my record player leaning on an old piece of wood. I usually spend my evenings drawing and things so it usually involves lots of herbal tea, lots of old time folk and roots music and lots of pencils or needles and thread.
I tend to start with doodling in a wee little A6 Moleskine and then scan and work on the hand drawn stuff using either Photoshop or Illustrator. It always starts with drawing.
What contemporary artists or developments in illustration do you find interesting right now?
Wow – here's where I get to list ace stuff! In the contemporary art sense I love the work of Clare Rojas and Marcel Dzama and of course Grayson Perry – they all three rock!
Illustrators I adore: Carson Ellis- everything the lass does is just wonderful and makes me want to hang up me pencil and look at her work instead of drawing. Jon Klassen is another fella whose work I could spend all day looking at and wanting to visit.
I am also loving the dark work of Stuart Kolakovic, especially his "Under the Damp Earth" show. At present I am quite interested in tattoo illustration.
How long does it typically take you to finish a piece?
It really all depends on what I'm working on. At present I have two lines to my work. One is the Illustration work and the other is gallery based hand embroidery work. The timescales differ considerably! The illustration work can take anything from a day or two to maybe a week. All the amendments are the parts that take the time though.
For the embroidery it can take anything from a few days to a few weeks.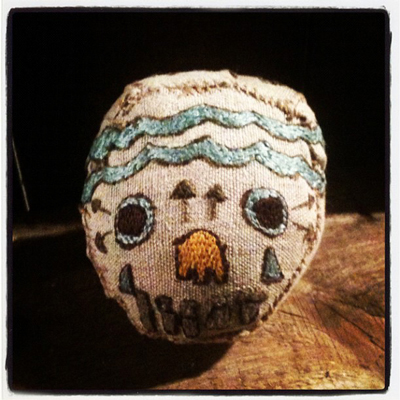 What do you do (or what do you enjoy doing) when you're not creating?
I read a lot and listen to heaps of records. I also cycle loads and make up wee little stories in my head (does that count as I'm not putting them on paper) at the same time. Spend time being daft with my little boy Archie and me big boy Ffion doing boys things like talking about superheroes and skateboarding.
Any advice for aspiring young illustrators?
Find a style and a way to work which is recognisable as your own, stick with it, and allow it to grow and develop. If you keep with it eventually people will start to recognize you and you'll start getting commissions and work.
You can see more of Stewart's work on his portfolio page, following him on his Twitter page or by visiting his blog